Featured Item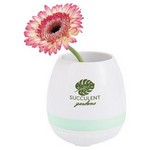 Green Thumb Flower Pot Bluetooth® Speak...
Enjoy music on your patio, deck, at poolside, or in the yard with Green Thumb Flower Pot Bluetooth Speaker. The Speaker is a flowerpot music system that contains one speaker and a Bluetooth receiver, ...
$19.98 - $25.18
Marketing Solutions
We're dedicated to helping you find ideal imprinted items at low costs to reach your target audience. We'll assist by working with you to find the perfect promotional items for your marketing needs. We're here to compliment your advertising with high-quality giveaway items.
Our promotional products bring you valuable brand impressions at an inexpensive price, and that's a fact!
Signature Showrooms